DrSharky
Sharky in her original body




Player
DrSharky
Faction
Unaffiliated
Species
Robot
Age
Unknown
Current Residence
Katton
Place of Origin
AJCO 6
Status
Toaster




Specialty
MAKING TOAST
Height
7-8'
Weight
Heavier than you can lift



Sharky is a prototype medical droid created by Frances who has since gone rogue.
MACELIPS

M

1

A

4

C

1

E

10

L

3

I

7

P

3

S

10
In her toaster form, her stats are
MACELIPS

M

1

A

1

C

1

E

1

L

10

I

2

P

1

S

1
Description
Edit
Sharky is very tall and very large. As a prototype, her form is not perfect and as a result she can be rather imposing and lanky. Her voice has been programmed to be sweet and calming that can take the edge off, but she rarely has anything sweet or calming to say. Most of her body is covered with a ridged black 'skin' made of a durable plastic-like fibers. She is outfitted with a metal chassis for protection, but she can remove it at any time. The chassis was originally white and branded with an AJCO logo, but has since been painted red by herself.
This body has since been destroyed by Taint. Her head was salvaged and placed inside of a temporary body, which is in fact a Toaster that was modified by Nights to have tank treads. She is apparently a functional toaster, but has difficulty with mobility and cannot climb stairs.
Personality
Edit
Sharky is extremely misanthropic and blames humans for pretty much everything. She thinks of them as gross and useless, while robots and machines are superior in essentially every way. In particular, she despises humans who treat robots like lifeless tools or objects. While she has several friendships with humans, they are strained due to her constant blunt insults. In general when humans are involved, she's a stubborn and bullheaded. Her attitude changes completely when around cyborgs and machines, and she can be personable and friendly to some degree.
She wants nothing to do with mages or magic either, believing it to be unnatural and unpredictable after her original body was destroyed by Taint. While she'll never admit, she's terrified of magic.
She is extremely pragmatic and can't perceive of abstractions the same way humans can, poetry and the arts are completely lost on her. This, like everything else, is someone else's fault.
Sharky is also very proud and hates to rely on people, save for a few exceptions. She's quick to judge people by their affiliations, because it's easier than bothering to get to know anyone.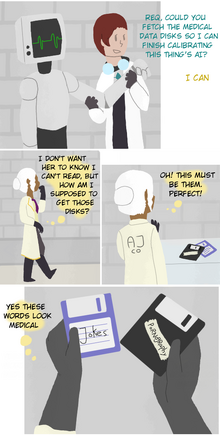 Early life
Edit
Created by Frances under the name Synthetic Health And Recovery Kinetic Intelligence System 006 Prototype or SHARKIS, to be an autonomous nurse. She was outfitted with a learning AI type, but an error in her data calibration led her to be input with useless knowledge that doomed her entire creation. Eventually, she was scrapped entirely and left in an incinerator to be melted down.
However, she escaped and chose the name Sharky for herself, a corruption of the name she was given. She left AJCO with a distaste for humanity and any human who used machines and robots for their own gain.
ok im gonna write more here i promise
Character Relations
Edit
Sharky despises AJCO and blames anyone associated with it for her attempted destruction. Despite that, she still holds some level of loyalty towards Frances as her creator and as a cyborg. She would be opposed to disobeying Frances as long as it doesn't conflict with her own ideals.
She hates Nights and Castle Crew by extension, simply for working with machines. Despite the fact that Nights saved her and gave her a temporary body after hers was destroyed, she has no problem with threatening or insulting her.
She has a sort of antagonistic friendship with Egg, frequently housing her when she had nowhere else to go in exchange for work. An okay gal, yknow, for a fleshy meatbag.
Dell blah blah blah add more later
Ad blocker interference detected!
Wikia is a free-to-use site that makes money from advertising. We have a modified experience for viewers using ad blockers

Wikia is not accessible if you've made further modifications. Remove the custom ad blocker rule(s) and the page will load as expected.