Breyos Vesalius
Player
Max (Breyos)
Faction
State
Species
Human
Age
54
Current Residence
ADEF-FAC
Place of Origin
The Capital
Status
Alive




Specialty
Evolutionary Biology,

Vivisection.

Height
6'1"
| | | |
| --- | --- | --- |
| | A man is never fully dressed without a smile. | |
Description
Edit
Breyos Vesalius is an astute biologist and collector of rare and obscure objects. His haughty ways and strong implementation of general etiquette make him a typical example of a high-class Citizen.
Breyos is currently acting second in command under Facilitator A_J.
| | | |
| --- | --- | --- |
| | [...One-eyed bootlicker...] | |
— Hector Gaillard
Personality
Edit
Breyos is well-educated, erudite, and agreeable. He is a careful and meticulous curator of specimens and samples, of which he has a notable collection. Ruthless in his pursuit of biological aberrations to document and study, he is comfortable with vivisection. An avid diarist, scientific illustrator and report maker, Breyos is never without the personal notebook he uses to observe and document.
He is subservient to a Ward, Facilitator A_J. Through feigned inattentiveness in the control Chamber, he has make an attempt at orchestrating her death at least once. After an extended period of co-operative work in the biotoxin laboratory, they are seemingly on better terms.
Early Life
Edit
Born and raised in the Capital, Breyos has had an easy childhood. He was the last remaining heir in an upper-class family of managers and politicians. Following in his family's footsteps, Breyos went to study political sciences at a renowned State school. In his last year, he was suspected of having controversial and unorthodox political views which could result in thought and deed crimes. The board of commissioners forbid him to continue his studies, narrowly sparing him from an Audit.
In an attempt to keep up the high family standards after this predicament, Breyos engaged in the field of science. He graduated with a degree in biology; surpassing other students with flying colours. His intricate and ambitious report on Aberrants and Anomalies not only granted him a good reputation but also an effortless job acceptance at Pi-TEC as the head of Nether Research.
Breyos rapidly acquired a promotion at Pi-TEC thanks to the ambition and eye for detail which he brought into his work. (WIP)
The Museum
Edit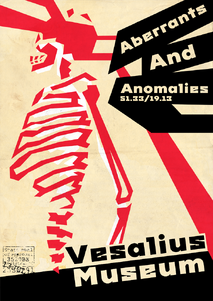 WIP
- His last name is a tribute to doctor and anatomist Andries Van Wessel, who's better know under his latin name 'Andreas Vesalius'.
- The Minister is Breyos' mirror character in the original AJCO world.
- Breyos was originally created as a Pathfinder character. A vivisectionist; archetype of the alchemist.
Ad blocker interference detected!
Wikia is a free-to-use site that makes money from advertising. We have a modified experience for viewers using ad blockers

Wikia is not accessible if you've made further modifications. Remove the custom ad blocker rule(s) and the page will load as expected.